Hotel La Lubiane — Our prices for 2018 in Euros
Price per day
Low season
Medium season
High season
Single room with shower
(the WC on the floor level)
42,45
44,45
48,45
Room 1 or 2 persons, double bed or twin beds
shower and WC
58,90
63,90
67,90
Room 1 or 2 persons,
twin bed bath et WC

61,90
66,90
70,90
Room 3 persons, 3 beds
shower and WC

72,35
77,35
82,35
Room 4 persons, 1 double bed + twin beds
shower and WC
80,80
85,80
91,80
Room 3 ou 4 persons 2 double beds bath et WC
80,80
85,80
91,80
Continental breakfast..2018
8,00
Extra Card breakfast (eggs....) and drinks
Extra Card
City tax 0.55 euro per person and per day.
L'hôtel have 1 disabled Room easy to access for persons disabilities and reduced mobility
Service breakfast in dining-room or in your Bed room or terraces
The Continental breakfast is : coffee or tea or chocolate or milk or herbs tea with bread and butter, jam, honey, 2 kinds of Rusk, slice of chocolate brioche and orange drink.)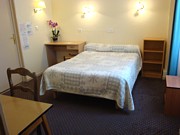 Hotel La Lubiane — Calendar 2018

February - March - October
Low season
April - May - June - September
Medium season
July and August
Festival Musique les Nuits du Sud.
Hight season
All prices included VAT and in case of regulatory change are subject to revision without notification. new TVA 10 % included from the 1st january 2014.

Credit cards accepted : Visa, Mastercard, Eurcard.


à Vence la Jolie, Cité des arts...Cité des fleurs...La Lubiane dining room with view to the White Baou

Click here to do your Direct Booking(Outlook Express users, don't forget to send the mail).
Arrhes, deposit : If you cancel your reservation less than 15 days before your arrival, the deposit is not returned.

Reviews of our accommodation facility at Limba.com - Hôtel Vence
---
Closed from 15 th November, décember, january.
Hotel La Lubiane
10 Avenue Maréchal Joffre 06140 VENCE
Tel: 33(0)4 93 58 01 10 /Fax: 33(0)4 93 58 84 44
Manager: O. MAITI - Contact : e-mail : hotel@lubiane.fr or hotel@lubiane.com
---
Last Change : 01/01/2018
Copyright (C) 2005...... 2018 Hotel La Lubiane